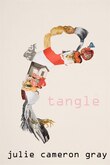 Teetering on the brink of longing and the downtrodden, Julie Cameron Gray's poetic debut explores isolation and the distance between human understanding and human experience. Her poems showcase the relationship between people and their work, urban living and the fringe existence of "wild" animals, the flaws that relationships tend to encompass despite best intentions, and the mysteries inanimate objects hold.
Tangle
is a verdict, a web of dysfunction, and an alibi.
Qty
Max qty for this item
Details
Trade Paperback
Dimensions: 96 Pages, 5 x 6 x 0.68 in
Published: 6/1/2013
Publisher: Tightrope Books, Inc.
Language: English
The following ISBNs are associated with this title:
ISBN - 10: 192663957X
ISBN - 13: 9781926639574