Free Shipping Directly to You
on eligible orders $25 and over when shipping within Canada
see eligibility
Free Shipping To Any Store
for most items with no minimum purchase
see eligibility
Free Returns
for eligible items up to 30 days from shipping date
see eligibility
Free Shipping Directly to You
To enjoy free shipping on eligible orders, please select "Free Standard Shipping" at checkout. Parcels eligible for free shipping are usually delivered in 1-9 business days, depending on stock availability, warehouse location and shipping destination.
Free Shipping Eligibility Requirements:
Offer applies only to orders of merchandise, excluding gift wrap charges and taxes. Promotional coupons and irewards discounts and plum point redemptions where applicable will be deducted from your item subtotal and may affect your order's Free Shipping eligibility. The purchase of gift cards and electronic gift cards do not count towards the Free Shipping offer.
Certain items are not eligible for Free Shipping based on their size. Items that are not eligible for Free Shipping will be noted on item pages.
Items shipping to some remote postal codes are not eligible for Free Shipping.
Cancelling items may affect your order's eligibility for Free Shipping.
Offer applies to deliveries within Canada only and may be subject to other shipping restrictions depending on the items ordered.
More Shipping Information:
free shipping to any store
We always offer free shipping to any retail store for most items with no minimum purchase required. Your order may take up to one week longer to ship from our warehouse when you select the Free Ship to Store option. We will contact you when your order arrives at the store and is ready for pick up. Identification is required when picking your order up.
Find Your Store
Have a question? Contact Us
Free Returns
Most items may be returned for a full refund up to 30 days from the shipping date. Items must be in their original condition.
You have 2 options for free returns:
Find Your Store
Sign into your Account Centre, visit your order history and view the order you wish to return. Select 'request a return'. If you purchased as a guest, use the guest order lookup tool.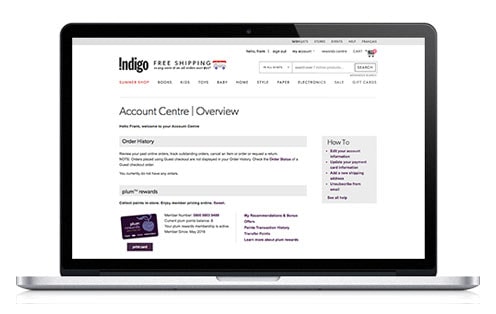 Print the return label and attach it to the outside of your parcel.
Bring your parcel to any Canada Post outlet. Items with our return label will ship free.